I woke up to day and start wondering what to do with my card. Yes, I am planning to send out Christmas cards to my friends and loved ones but I was caught being blank – not to know what to write on it. I am not sure if I just feel lazy because the holiday season just started and I think that's what called Christmas Spirit.
After some thought I have written some wonderful Christmas wishes for my cards. You can see those wishes below. I am sure you will like it!!!.
You may also like
Christmas Wishes
Christmas is the Gift of God to Us
Let us celebrate Christmas with
Fun and Party.
Merry Christmas to You
Christmas proclaims that
God will be with us always
Let us Celebrate this Happiness
with Fun and Dance
May the magic of Christmas
brings you Happiness, Cheers
and fun into your life
Merry Christmas to you
The Lord has born to save us
Let us rejoice and enjoy the birth of our King
Merry Christmas to you
On this Christmas Celebrate the day
with fun and dance with family
Merry Christmas To You
Merry Christmas Wishes
Yesterday, as I roamed around the city, I saw lots of home ready for Christmas. I saw beautiful and elegant Christmas decorations prepping the neighborhood for Christmas. Now that I remember those beautiful christmas lights and decorations, I think I can have inspiration in writing Christmas messages. Since you may be feeling the Christmas spirit now, I thought you might need some ideas for Christmas wishes and messages. So here come some samples of Christmas card messages and greetings that you can write on your card.
Nations will rise and fade
Kings will rule and fall
But Christmas will be forever
It is the birthday of our Lord
Merry Christmas and New Year
Christmas is the season for party and fun
Let us start with prayers and praise
Let the happiness and joy fills our house
Merry Christmas and Happy New Year
On this Christmas Season,
may the Joy and Happiness spreads like
the lights of Christmas Tree
Merry Christmas To you
Heaven and earth is ready to Celebrate
The birthday of their king,
Who has sacrificed himself,
to save us from our sins.
May his love and affection,
Fills your soul and spread to others!!!
Merry Christmas To you
Christmas season is the time for holidays
I wish you a great Christmas
Filled with fun and celebration
Merry Christmas To you
A wonderful Christmas Card for Christmas Wishes
Related Article: Christmas Poems for Kids and All Ages
Are you looking for beautiful and magical Christmas decorations? Here is a Pinterest Board featuring these wonderful Christmas decorations. Visit pinterest and create your own Christmas Decorations board.
 Happy Christmas Messages and Greetings
The very essence of Christmas lies in the birthday celebration of Jesus Christ, the son of Almighty God and the Savior for Christians. This is the time when the whole world, well except  non-Catholic and non-Christian country, celebrate the day with merriment and zeal. This is also a time of sharing love and gifts. If you are like me who are planning to send Christmas cards to friends and relatives, see my samples of Christmas messages. I hope that these Christmas wishes and greetings will be interesting and useful to you.
Merry Christmas Wishes and Merry Christmas Messages
The below Christmas card will show you how many days left for Christmas. Feel free to share this one on Facebook:
Source:  365greetings.com/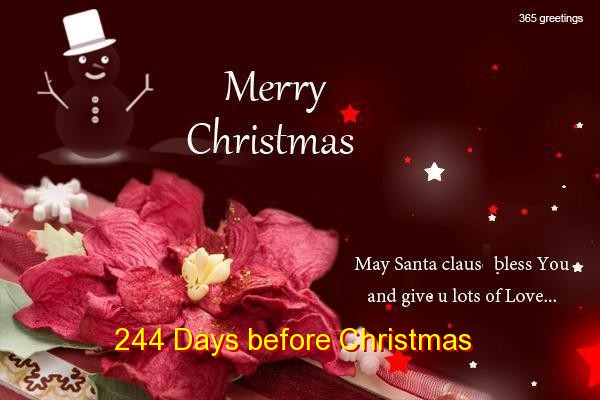 Christmas Card Sayings
Christmas Around The World
Christmas is the biggest festival of the world celebrated by millions of people around the world. Almost all nations and territories celebrated the festival with fun and party. It is on Dec 25th and it is followed by another new year festival. Christmas is the birthday of Jesus Christ who is suppose to be the most influential person ever lived. His life changed the way of life in this word. People changed the way they think and live. Millions of people sacrificed their life to spread his teachings and gospels. Nations conducted wars to protect his teaching and people devoted one day to visit church and praise him. Even people started counting time from his birth as after Christ (Anno Domini) and before Christ.
As normal Christmas is Become the biggest festival in the world and millions of people celebrate it with carols, parties and decorations. People send Christmas Wishes and business are getting geared up for expected shopping spree. People Buy 100′s of Christmas gifts, Christmas Hampers and Christmas Gift Baskets for Christmas
Christmas Card Messages and Christmas Wishes Messages
Are you not satisfied with the Christmas Messages again.  You look at below christmas messages for cards. This messages is also unique written like above. So please read through the below messages and I am sure that you will find some great messages .
May the Christmas Magic
Brings health, wealth and peace to you home
And make your Christmas a fun filed Celebration
Merry Christmas and Happy new Year
I am having great pleasure to wish you
Merry Christmas and Happy new year
Filled with fun and Celebration
Magic of Christmas gives your the Confidence
to face all the challenges waiting ahead
Merry Christmas and Happy New year
Let us pray to the god
For all the mercy He has shown to us
Merry Christmas and Happy New Year
christmas card greetings and christmas quotes for cards
It is the Christmas Day again
It is the birthday or our savior
Time to dress up and enjoy
Merry Christmas to You
Magic of Christmas Not only fills in you heart
But it spreads to your loved one
Merry Christmas to you and your Family
As the Christmas Day comes and you pray at Church,
Do not forget those who have nowhere to pray
Those who have nowhere to live,
Share the happiness and love with them
That is the best celebration you can give to Jesus
Merry Christmas To you
Christmas Messages For Friends, Christmas wishes for friends
Friends are our true asset. They will help you and give you support which some times our family members hesitate. Please find some Christmas messages for friends
You are my best friend and
I am really lucky to get you as my best friend
Enjoy Christmas and New year
Merry Christmas to You
Christmas and New year are there for party
So Let us celebrate the Christmas and New year
To take a break and get ready for a new start
Merry Christmas to You
It is the time for party and fun
Do not go to church as it is filled with sinners
Let us celebrate the Christmas in our own way
Merry Christmas to You
As the nature and heaven is rejoicing
Magic of Christmas spreads love in the world
I wish my best friend a season filled with happiness
Merry Christmas to You
Christmas greeting words and christmas cards messages
When you read this card, May the love and prayer
I have filled in this card spread you like Christmas magic
And let it flow to your nears and dears
Merry Christmas To you
When I have a friend like you,
Always my Christmas will be blessed
Because you are the great friend anybody can have
Merry Christmas To you
As Christmas season unfolds again
People are rejoicing themselves by singing and caroling
I am also rejoiced to know that I am having a great friend
Merry Christmas To you
As the houses are getting decorated,
To celebrate the birthday of our princes
I wish his blessing may shower on you
Merry Christmas To you
Christmas Wishes For Kids
Please find more Christmas messages here. These messages are suitable for kids
I am willing to give you everything.
Even if it will mean giving my life to you.
Jesus has done the same;
He gave His life to us without a doubt.
Merry Christmas!
You have the power to make me smile when I am sad,
and make me feel relaxed when I am tired.
I love you for giving me the drive to live and enjoy!
Merry Christmas!
I cannot help but admire your eagerness and strong passion towards life.
How I wish I can have that energy too!
Merry Christmas!
You are such a wonderful child!
I am so glad that you grow up to be such a smart, lovable, and understanding person.
You never fail to make us proud of you!
Merry Christmas!
Christmas Wishes  For Father
Dad you acted as Santa to make me happy,
You struggled to avoid my struggle,
I am blessed to have you as my Dad
Merry Christmas!
You are such a wonderful dad
I guided me and shown me the way
I will never fail and will make you proud
Merry Christmas!
Christmas Wishes  For Mother
Let me wish you merry Christmas
That dipped in love sauce
That will make as sweet as the dish you make
Merry Christmas!
Mom I am so lucky to have you as mom
Who is enlightening and guiding us
Ready to sacrifice to bring cheers in to our life,
Merry Christmas  and Happy New Year
Mom you are my blessings and my true friend,
I celebrate the Christmas to thank the lord
For giving you as my mom
Merry Christmas and Happy New year to a wonderful Mom
You are the best mom in this world,
And you are lucky too 
Because I am the best daughter you can have
Now where's my Christmas Gift???
Merry Christmas and Happy New year
All those years Santa has Given me the Christmas gift
This year I expect my mom will give a grant Christmas Gift
Because you are the best mom anybody can have
Merry Christmas To you
religious christmas cards
Funny Christmas Wishes
Let the priest rejoice himself
By delivering endless Christmas messages
Let us Rejoice ourselves
By enjoying the Christmas Party and wine
Merry Christmas  and Happy New Year
Christmas Wishes Quotes
I think I have to include some famous Christmas quotes also here. Please note that the following quotes I have got it from public domains. These are really great Christmas Card Quotes and I am sure Something will suit for your card
"This is Christmas: not the tinsel, not the giving and receiving, not even the carols, but the humble heart that receives anew the wondrous gift, the Christ." Frank McKibben
"Bless us Lord, this Christmas, with quietness of mind; teach us to be patient and always to be kind." Helen Steiner Rice
"Let us remember that the Christmas heart is a giving heart, a wide open heart that thinks of others first." George Matthew Adams
 "Our hearts grow tender with childhood memories and love of kindred, and we are better throughout the year for having, in spirit, become a child again at Christmas-time." Laura Ingalls Wilder
. "Christmas is forever, not for just one day, for loving, sharing, giving, are not to put away like bells and lights and tinsel, in some box upon a shelf. The good you do for others is good you do yourself…"Norman Wesley Brooks
 Copyright Notice: All the images, text belongs to snydle.com and 365greetings.com. No third party text or images used in this article. Please do not attempt to copy